Brenda's Butternut Squash Lasagna. First, prepare the butternut squash filling. Using food processor, combine butternut squash puree with Ricotta cheese, milk, salt and nutmeg. Since you're looking at this butternut squash and spinach lasagna, I assume you like butternut squash.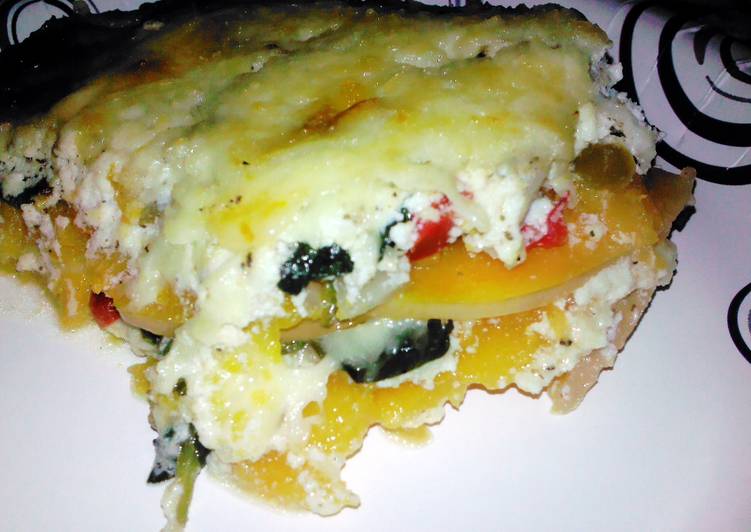 To make it gluten-free, you can swap gluten-free noodles in it's place. Instead, the lasagna layers are filled butternut squash, spinach, bechamel, and cheese. The combination is ridiculously cozy and comforting. You can cook Brenda's Butternut Squash Lasagna using 11 ingredients and 9 steps. Here is how you cook that.
Ingredients of Brenda's Butternut Squash Lasagna
It's 1 large of butternut squash.
Prepare 4 tbsp of olive oil.
Prepare 1 small of sweet onion.
You need 3 clove of garlic, sliced.
It's 4 cup of spinach.
Prepare 15 oz of skim ricotta.
You need 2 tbsp of fresh sage, chopped.
It's 1/4 tsp of nutmeg (or ginger).
It's 1 of kosher salt.
You need 1 of fresh ground pepper.
Prepare 1/3 cup of skim mozzarella, grated.
Recipe courtesy of Giada De Laurentiis. In this butternut squash lasagna, we're skipping the red sauce and making a luscious white sauce with milk, butter, and flour, also known as a bechamel. Pre-cut butternut squash can be found in the refrigerated produce section of the grocery store. The extra cost pays off in reduced prep time.
Brenda's Butternut Squash Lasagna instructions
Preheat oven to 350°. Lightly grease casserole dish with non stick spray..
Prepare squash noodles: Peel, halve and seed the squash. Cut off the lower third of the squash (the part where the seeds have been removed) and reserve for another use. Slice the neck of the squash into long strips that resemble wide lasagna noodles, about 1/8 inch thick. It is helpful to use a mandoline, but a long slicing knife will also work. (I cut mine into small slices to make it easier to handle, they tend to break apart if boiled too long).
Bring a large pot of salted water to a boil. Cook the squash noodles until they are slightly tender, 4-5 minutes, then gently remove the noodles with a slotted spoon..
Prepare the spinach: Heat 1 tablespoon of the olive oil in a large saute pan. Add onions and cook till translucent, 4-5 minutes. (I used season blend, which is a bag of chopped onions, red bell peppers & celery already chopped.) Add garlic and cook till fragrant, 1 minute more. Add the spinach in batches, allowing it to cook down before adding more. Cook until all spinach is wilted, 5-6 minutes. (I only used about 3 cups of spinach).
In a medium bowl, mix ricotta with nutmeg and sage. (I didn't have nutmeg so I used 1/4 tsp ginger instead).
Cover the bottom of the prepared dish with a layer of squash. Top with a third of the ricotta any gently spread it evenly..
Drizzle with 1 tablespoon of olive oil and sprinkle with salt and pepper. Top with half the spinach mixture..
Continue layering, and finish with a layer of squash, ricotta and a final drizzle of olive oil. Top with the mozzarella cheese..
Bake until filling is bubbly and the mozzarella is golden brown, 35-40 minutes Let cool slightly before serving to let the layers set..
Ready to meet your new favorite fall recipe? Join executive editor Ann Taylor Pittman in the kitchen today as she teaches us how to make outrageously. I spotted it yesterday while I was turning the earth in the potato bed – the first tinge of rouge on our towering maples. Any roast winter squash would be lovely in this recipe (Nigella Lawson has a recipe for a pumpkin and goat cheese lasagna in her book Nigella Christmas. This Butternut Squash Lasagna gives noodleless lasagna a whole new fall twist!